Hey there kittens.  So years ago I read or heard somewhere that some male model stated that you should never clean your face with any harsh chemicals, especially around your eye area as it will instantly age your skin.  I thought about it and the statement sounded very logical so I've been using that method for about probably the last 15 years.  Here's the thing though, the world is an ever changing format, technology in skin care and beauty have made almost as much leaps and bounds as medical care.  What worked 15 years ago might have worked well but there is probably something out there today that works even better.
Well I've been doing some experimenting. I've been combing Youtube videos, looking into all of the trends I find interesting, all things lashes, ombre lips, nail art and eyeshadow and liner application.  There are so many beautiful girls out there now, all giving their tips and tricks, sharing their knowledge and demonstrating how you too can achieve their look if you so wish.  What an amazing gift to be living in this world where answers to many of your questions and a demo is at the end of your fingertips.
What all this means to me is that I have now adopted a new cleansing ritual that leaves my face feeling, soft, youthful and thoroughly clean.  I'm looking equally good without the makeup as I am with.  And trust me, I'm not being conceited.  I'm just sayin' this is what I've observed.  The other evening when I came home and started using my makeup towelettes to remove my workday look, my sailor came into the bathroom and commented, "now you look truly beautiful."  Awww, yes I know.  I was like that too and if you know my sailor, he ain't one prone to just dole out compliments.  If he says it, he means it!
Anyhoo, this is what I now do.
My first step is using Neutrogena oil free makeup remover approx. $9.00 at most drug stores/Walmart.
I dip my Q-tip and run it along my lash-line to help remove my false lashes.  If I'm not wearing the lashes then I sweep the Q-tip along my lash-line to help remove the liquid eyeliner and lightly brush my lashes to loosen/remove mascara.
My second step is utilizing my Equate makeup remover towelettes.  They are amazingly priced at around $8.00 for 2 packs of 40 at most drug stores/Walmart!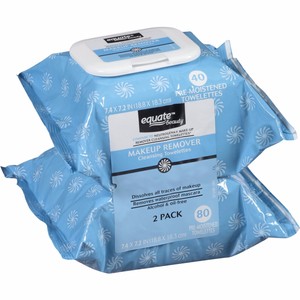 I use one side to wipe off all of my eye makeup, eye-shadow, liner, eyebrow filler, all of that.  I then use the bottom of that same side to remove my lipstick.  I flip over the towelette and clean the rest of my foundation off.  Then dump.
You can rinse your face if you choose but you don't have to.  On Friday this is the end of my routine.  I'm tired, I don't want to be bothered with the whole moisturizing process and I find you can skip it when you need to.  I wouldn't suggest this continually (at least for myself) because at 43, your skin requires a lot more moisturizer and protection than you did when you were half that age.  But once a week at the very least, you can get away with it.
If you are going to go ahead with the rest of my ritual, my third step is to wash my face with Clean and Clear Morning Burst, about $6.00 at most drug stores/Walmart.  Then pat face dry with a towel.
My fourth step is to apply the Vitamin C serum, which I purchased at Amazon for approximately $8.00.
With this product a little goes a long way.  Shake well, use the dropper to place a few drops into your palm and use your fingertips to tap into your face.  I tap it around my eyes as well.  Then I use another few drops to apply to my throat.  I let it dry for about ten minutes.  You will feel a slight tightening of your skin, this is normal.
Fifth step, is to apply my Clinique Dramtically Different Moisturizer.  It's about $24.  I buy it at Macy's.
And finally, the sixth and final step for me, is the use of Ambi Fade Cream, about $6.00 at most drug stores/Walmart.  I have certain dark spots on my face and so I topically apply a small dab on each spot.  I do not rub the fade cream into my skin.  I just topically apply.
And voila, c'est fini!  I know it seems like a whole lot of steps but it's worth it.  Plus I really only do this Monday thru Thursday.  Friday I just do up to the towelettes, step 2 and during the weekend, I just do the Clean and Clear wash and then the steps to moisturize.
I hope that you get the results you're after if you try this routine!
later kittens.