So for the first time – ummm ever my sailor and I were stranded at the airport.  We were told our flight from DFW (Dallas Fort Worth) Airport to LaGuardia NY was delayed then shortly after we were told the flight was cancelled due to weather.
Now truth be told I wasn't exactly horrified.  I did a few quick calculations in my head and we were blessed to have a couple hundred bucks at our disposal had it been necessary.  So once I knew were not in dire straits monetarily – the rest was just a matter of finding out information.
The airline staff began announcing instructions and giving out cards with a telephone number, telling us to call that number and they will help us obtain another flight into NY.  While a lot of people, myself included took the number, I was still waiting on line to talk to an airline staff member to find out about our luggage and if we were going to be comped for a hotel night stay.
The line was too long so I jumped over on the side and gently asked a staff member if we were going to get comped a hotel stay.  She snapped no, that they don't comp passengers when it comes to inclement weather.
Awesome.  They also announced that our luggage would still be arriving in NY tomorrow unless we wanted to yank it off.  If we did want our luggage, we would have to wait at least two hours to claim it.
So the sailor and I decided we would get some frozen yogurt and call the number we were given.  When we called the number and gave the nice young man our record locator number, he found us flights departing the next day, one at 7am and one at noon.  We took the noon flight at no additional cost.  He did his thing on the computer while we were on hold and then declared that we had the same record locator number and could check in using that, tomorrow for our flight.  We asked him about our luggage and he said it will arrive tomorrow in NY before we get there and to use our luggage receipt when we land and we'd find our luggage, no problemo.
So we decided we would do just that.  In a situation like this, it's a good idea to maintain a good sense of humor, be calm, have extra money if you can spare it and listen to the airport staff carefully for instructions on how best to proceed.
The sailor and I decided to leave the luggage.  The last thing we wanted to do was wait two hours just to get our big ass suitcase back and then re-do this tomorrow morning.  I called my sister, as the rest of my family were still staying additional nights in Dallas asked them to text me the hotel address they were staying at.  We then went down to the car rental joint and rented a car for one more day and then drove to the hotel.  The night at the hotel cost $78 but that included a free and very tasty breakfast!  The car rental was a cool$100.  We stopped in at Walgreens for some toiletry items and fresh underwear, $20, by that time it was a little past dinner so food – another $30.  All in all the extra day cost us about $230.00 – not horrific.  If we had to be cheap about it, we could have gotten a motel for $50 or even just slept at the terminal.  We could have said no to the car and just had to spend a few bucks on some fast food.  But Thank God we're not financially strapped at this point and were able to spend the extra bucks and be comfortable.
The next day, after hanging out and having a great evening with family as well as consuming a sumptuous breakfast with them, we set off.  Again.  We dropped off the car rental and checked in only ourselves (quite a relief) boarded our flight and landed in NYC without any trouble.  Once we landed we found some airport personnel at the terminal where we landed, explained that our luggage arrived yesterday and our flight had been cancelled.  They directed us where to go, which turned out to be the baggage claim office.  We went there, presented our receipt.  The admin. gentlemen asked us what our cancelled flight number was.  We told him.  He directed us into the back of the office and like magic, voila, our suitcase was waiting for us like an orphaned poodle.
Now let me just say there were a few people on line to claim their luggage who were having a great deal of trouble and that's because they didn't seem to have any information that they could pass on to the admin. clerk, so he had a very hard time helping them.
Here's what I learned.  BE INFORMED.  Know your flight numbers, your airline reservation code, record locator number, etc.  Keep your boarding pass until you're home and no longer need them.  If you check in your luggage, keep your receipt until you no longer have need of it.  There's a whole lot of smart phones in a whole lot of dumb hands.  I plug in my flight itinerary into my calendar.  This damn near 800$ device is gonna do more than help me text my peeps and call my mama!  I mean one of the guys had no idea what flight he was just on!  HELLO, seriously dude?  You have got to be very Jerry Maguire about this – HELP ME, HELP YOU.  HELP ME, HELP YOU!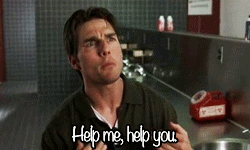 But more importantly – understand that shit happens.  Getting angry, losing your cool and yelling at random people doesn't help at all.
Take down the information you are being given, then take a minute, sit down and gather your thoughts.  If you're around ice cream or frozen yogurt, get some then sit down and think.  Something yummy in your tummy will make you less cranky and more opt to find a solution rather than dwell on the problem.  In the end remember, what's the worst that can happen?  Then remember, the worst is not that bad, all things considered.
For reasons other than our experience and more information about your rights as a passenger when you're involuntarily bumped on a flight, or if the airline lost your luggage please click on the link below.  Forearmed is forewarned.
Penny Hoarder – Know Your Passenger Rights About Airlines
Toodles poodles