You know I'm gonna bring it to you front and center.  If your eyes need direction when you're sitting on the couch, remote perched and pointed at your lil big screen while the other hand is scratching your head trust me pan it.  I've got the magic stick – plug me in and click away.
This Fall/Winter season has me jumping mostly between my (as my sailor has dubbed) ratchet show lovelies and beloved Sci-Fi.  Fall back and see what's poppin' homiE.
We'll proceed with the shows you can binge watch.  Click on the links for the trailers sil' vous plait.
Luke Cage – Original Netflix Series
There's a lot to say about this series.  I've heard it described somewhere as "too Black."  I'm not even sure what was meant by that statement but if they meant that the cast led by Mike Colter (who I couldn't get enough of from The Good Wife) was chock full of stellar Black actors like Alfre Woodard, Mahershala Ali, Simone Missick, Ron Cephas Jones and Rosario Dawson, among others, than they are correct in their assessment.  The cast is mysterious and engaging, the storyline is unpredictable and they've finally followed the Brits by taking the glamour out of the body of actors and instead showcasing it on the stage with music that sends you on a sultry time travel.  Don't get me wrong, the actors are sexy and their bodies do whet an appetite but in a genuine, every day people kinda way that makes you check out the partner you've already got with a more appreciate eye.  – And I for one, am down with real – always preferred Hustler to Playboy any day of the week son.  Take a weekend and binge watch Season 1.  Don't let the groovy 70's vibe throw you as it most certainly will regardless.  This Harlem honey is set in today's time.  Sweet Christmas.
******* **************** *********************************
The Fall Season 3 on Netflix
First of all this ain't no Fifty Shades.  In fact, you're going to undergo extreme climate change as Jamie Dornan transforms from scorching Tristan Grey who absolutely has a girl begging to enter his playroom to terrifyingly glacial serial killer, Paul Spector in The Fall.  If you've seen the first two seasons you know that DSI Stella Gibson has been hunting the hunter for quite some time.  Season 3 starts off as slowly as a rusty caboose but the end of the ride takes you on wicked turns no seat belt could prepare you for.  Do I have to mention that DSI Gibson is played by Gillian Anderson.  As tasty to the palette as a cabernet sauvignon, Gillian ages the same way.  The only detail that threw me and comforted me simultaneously was Gibson's almost paternal grandfatherly voice, which lent a great deal of gravity and solemnity to the series.  For once, there was not a moment of romanticizing or admiration of the villain.  One of the most thought provoking dialogues I've ever heard – ex: "There was a study done in which men were asked what about women intimidates you.  Their answer was, we were afraid they would laugh at us.  The same question was posed to women and by and large their answer was, we were afraid they would kill us."
****************** ******************* **********************
Stranger Things on Netflix
Yes I know, you're thinking: kid flick, Stand By Me, Winona Ryder – Bye Felecia.  Arretez homiE.  Let me just say the sailor and I were entranced.  It was all we could do to hold ourselves back from calling out sick and not dragging out the suspense for days on end.  Winona does play this one a tad manic, true – I'll give you that but as the scenes go on, her angst becomes palpable, infectious and you find yourself doing something you never thought you'd do since Bram Stoker's Dracula.  You wanna watch her!  Yes, you too will wanna stroke her cheek and travel across oceans of time for this lil mama drama.  It's a cocktail of flix: a tad Stand By Me, a little Sixth Sense, a splash of Carrie topped off by a twist of Firestarter – hey Stranger Things have happened.  Give it a go.  You heard it here first.
********************* ******************** ********************************
Columbo on Netflix
He scratches his head, smokes a cigar and is surrounded by stars like Johnny Cash, Leonard Nemoy and Anne Baxter.  If you're cooking, writing (mon dieu), dyeing your hair – whatever – having this lovable character's voice in the background is simply comforting.  It's an oldiE but goodiE!  Nuff said.
*************** ***************** *********************************
So during the Thanksgiving holiday I saw two stellar movies.
First up:
Suffragette
I always love a good civil rights movement movie.  This is one of the best.  The cause?  Women's right to vote.  We're introduced to the feminist movement that started in London and Ireland in the late 19th and early 20th century and opens in a laundry workhouse.  The brutality that's heaped upon the softer sex for simply asking for the right to vote and participate in choices that govern their lives, is absolutely astounding.  It's a must see.  I appreciated the struggle that still continues today to a certain degree both in and out of homes around the world.  It's a tumultuous roller coaster of emotions that helps you to appreciate the tenacity of the women who forged this pathway through blood, sweat, tears and sacrifice and allowed many of us a better life.
**************** ****************** ******************************
The Conjuring 2
I'm one of those people that appreciate a good horror flick every now and again but I don't classify the Conjuring 1 or 2 as horror.  Hold on to your extensions but I actually classify it as feel good flicks.  Yes, ya read that right.  Why?  When I peeped the first one, (spoiler alert) – after the entity grabbed hold of the mama and dragged her down the basement steps and her husband didn't stop to think about himself, the kids, the house, the fact that a demon got his woman by the tootsies, but instead teared after her like his own ass was on fire, well, that sold it for me.  That's the kinda man I want – hell that's also that kind of spouse I pray I am – but I ain't tryin' to be tested, ya know what I'm sayin'?  In any case when demons and spirits are after you, I want Lorraine and Ed Warren to waltz through my doors, speak to my Jesus and help save me and mine.
**************** **************** ***********************
On to my favorite shows this Fall Season
Love and Hip Hop New York -If you don't know, you better ask somebody.  Click on the link below and try it on.
Love and Hip Hop New York – Season 7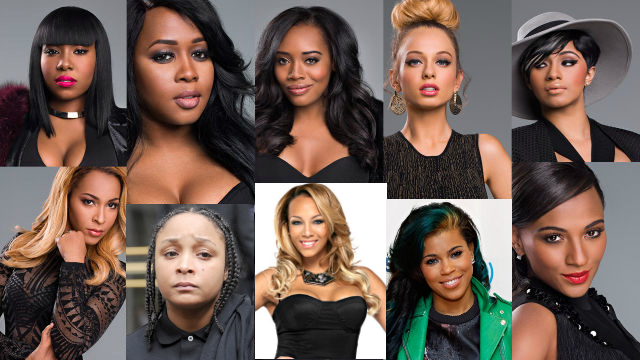 Black Ink Chicago – Tats, artists, Chicago and everybody is turned up – what's not to love?
Frequency – How refreshing to have a Sci-Fi show!  Premise – a female cop communicates with her long, dead cop father and together they discover a way to heal old wounds and solve old and new crimes!  Yes, you know you're curious. The most intricate and interesting part of this series is the way the two main characters use both the past and present to change both the past and present, making the ripple effects unpredictable and unforeseeable.
************** **************** *****************************
Timeless – Another Sci-Fi show that has to do with time – past and present.  Nostalgic of Where In the World Is Carmen Sandiego?  This show however is filled with costumes, history and three main characters that each bring their own unique style, skill set and perspective to the task at hand all while attempting to right wrongs, leave the past untouched and unravel a mystery that answers the question none of them have dared to ask – why?  The other detail that I love about this show is that one of the main characters is a black, male scientist, awesomely played by Malcolm Barrett.  When these three travel back in history, the show pointedly illustrates the segregation of the time and we get to witness and hear Malcolm's or rather Rufus's  perspective.  Details such as this, along with a solid cast is what makes the show so incredibly interesting and engaging.

************** *************** *******************
Westworld – What would you do if you discovered a world where you could do virtually anything you wanted to anyone you wanted, without consequence?  Westworld forces one to redefine the components that inevitably make up a human being and sets those apart from the "hosts" that populate Westworld.  There's a puppet master and plenty of strings but this series leaves the audience in serious doubt as to who is actually controlling whom while journeying into a world that makes everyone question their reality while slipping deeper into the fantasy contained in Westworld.